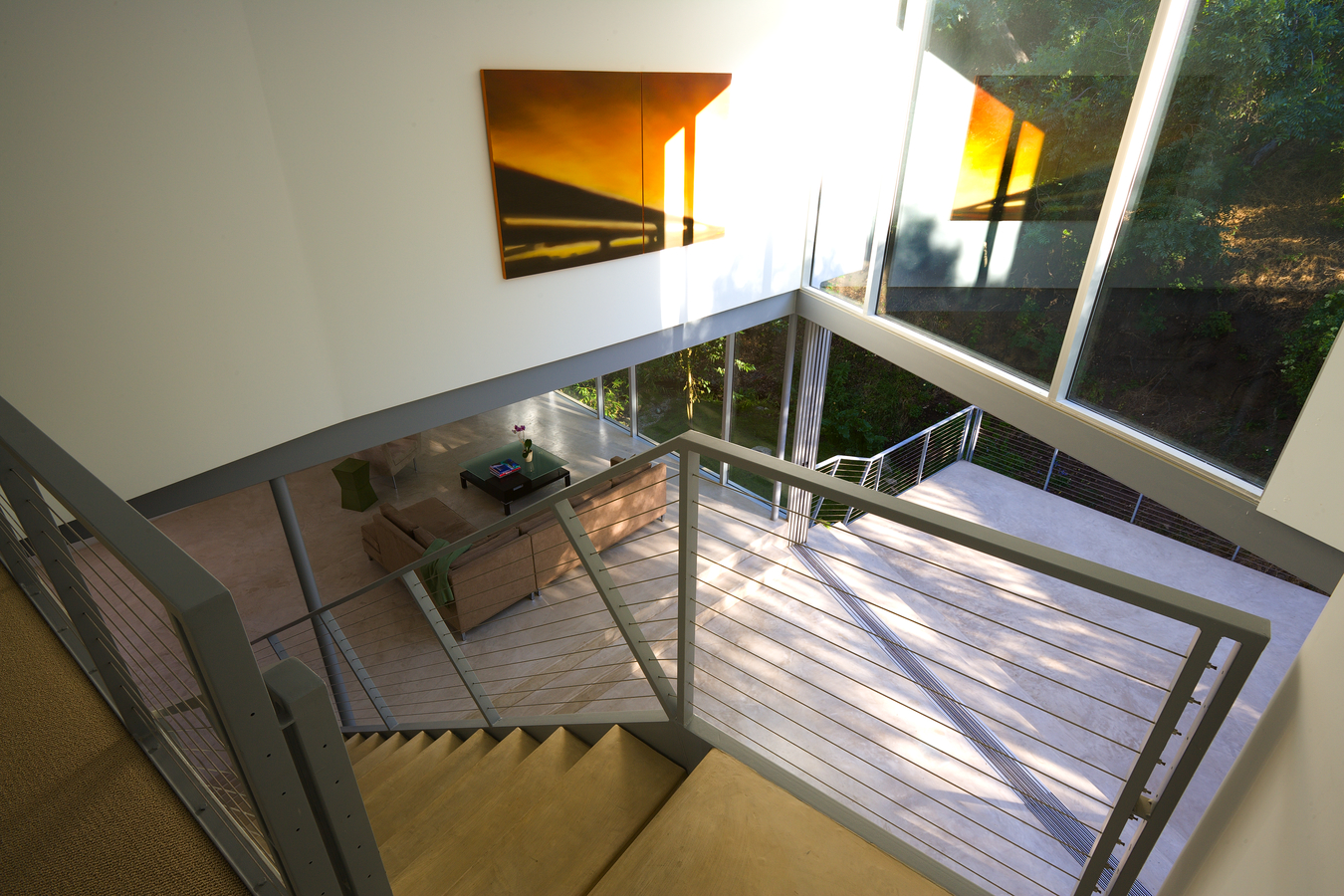 LAUREL CANYON HOUSE

STUDIO CITY, LOS ANGELES, CA
Located along a congested area of Laurel Canyon Boulevard in Los Angeles, the "build-ability" of this parcel of land was heavily questioned. Due to the property's prevailing steep slope, the presence of an unusually high water table, a stream and 20 feet of road-cut backfill, a lengthy feasibility study was undertaken before initiating design.
Following discussions with the geologist, a hillside foundation contractor, as well as the City of Los Angeles's Departments of Building and Safety, a set of criteria were established that helped to reconcile the siting of the structure with the construction budget.
From this the programmatic requirements of the house were organized in direct response to relationships of living space to the conditions of the site.
In negotiating this imposed siting, an inverted orientation emerged, turning away from the Boulevard and towards the undeveloped hillside and creek found within the property. The house was conceived as the inter-locking of two material systems: an opaque volume of masonry, screening the residents from the noise and intensity of Boulevard, and a thin scrim of wood and glass, supporting a porous relationship between the interior spaces and the Canyon.
A cantilevered path wraps the west elevation of the house leading to the "front" entry. The main floor of the house consists of a series of contiguous living spaces that open to an exterior terrace, expanding the interior spaces deep into and over the site.
The openness of the lower floor connects upstairs with the media room, which acts as an extension of the living spaces below and is flanked by the three bedrooms.The structure of the house consists of a simple wood and steel hybrid frame transferred to 11 +/- 25'-0" deep friction piles. Concrete floors, stained plywood cabinetry and plaster are the primary interior materials, while the exterior is composed of smooth-troweled stucco, silvered-cedar and aluminum windows.
PROJECT TEAM:
orenj: Mike Jacobs/Aaron Neubert, Michael Alamo, Jeremy Fletcher, Gabriel Leung, Sebastian Salvado, Ashley Munselle.
General Contracting: MFH Construction
Foundations: RCW Contracting
Structural Engineering: Gordon Polon Consulting Engineers
Photography:
Brian Thomas Jones Photography