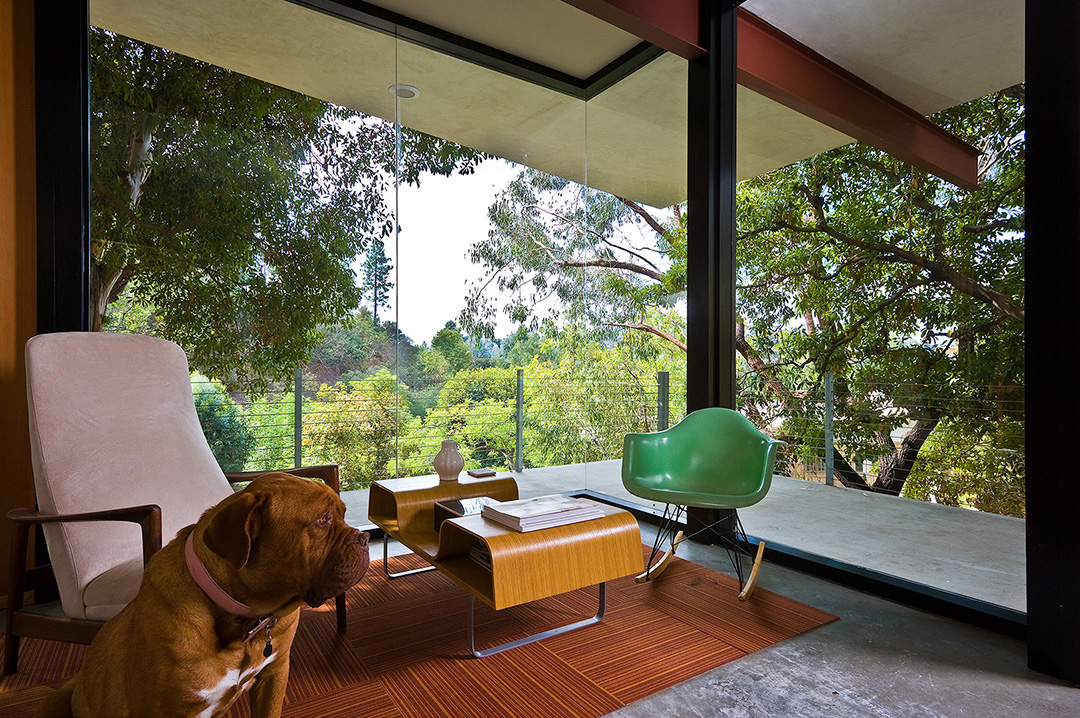 RUNYON CANYON HOUSE

HOLLYWOOD HILLS, LOS ANGELES, CA
The siting for this project emerged as a negotiation between the existing 1950's post & beam house, the steep terrain, the L.A. Hillside Zoning Codes, and a beloved California Sycamore. This unusually shaped property, together with the desire to maintain the spirit and integrity of the existing structure, defined the parameters to this 800 sf addition.
The addition is built around a tree and is positioned as a bridge between the flatter, more accessible areas of the property. The cantilevered addition extends over the slope and projects into the tree canopy. Conversely, the sycamore tree remains rooted within the interior, literally occupying the space of the bedroom.
The two-way cantilevered concrete slab is anchored by (10) 25-foot-deep concrete friction piles and grade beams. In addition to resisting structural loads, this foundation is designed to negotiate and accommodate the roots of the sycamore tree. Above, two structural steel beams, in a nod to the wood post & beam structure of the existing house, allow for an open flow of space under the roof canopy. Infill panels of the existing house translate as the primary cladding for the addition in clear-stained tongue & groove, Western Red Cedar.
PROJECT TEAM:
Mike Jacobs, Aaron Neubert, Michael Alamo, Jeremy Fletcher, Gabriel Leung, Sebastian Salvado.
Builder: Joe Mullenix, Bldg & Dsgn
Photography:
Brian Thomas Jones